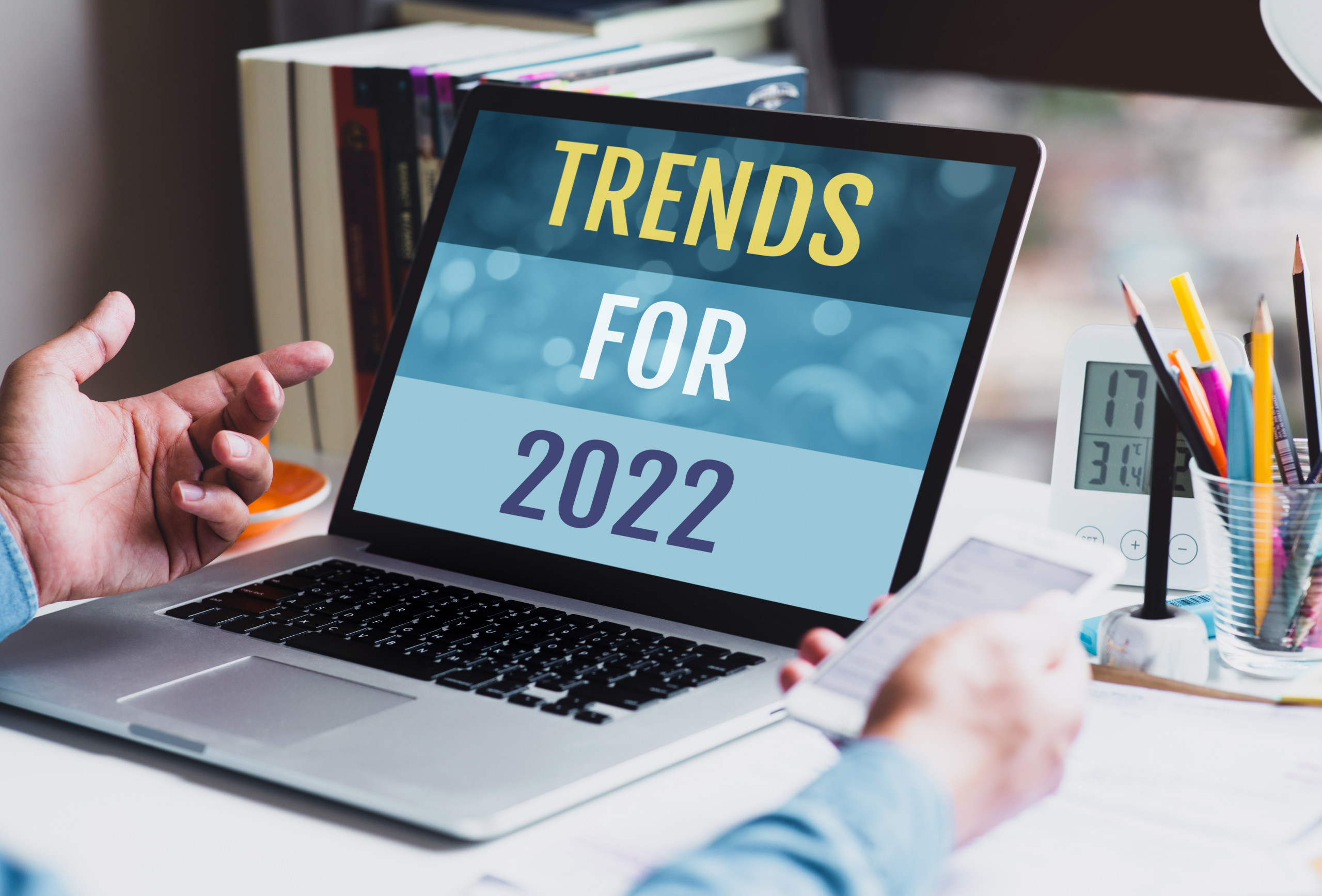 It feels like the marketing world is spinning faster than ever. And it can be hard to keep up. This past year, we saw just how quickly a digital transformation can occur, but through the challenges, we also discovered just how much opportunity can come from being ready for anything.
It's an exciting place to be, so we want to help you take advantage of all the opportunities out there in order to make this your best year yet. So we've compiled a list of six marketing trends that we know you simply can't ignore in 2022.
Being More Active in SEO
With the increasing prices of digital advertising, your website's organic reach is more important than ever.  A strong SEO strategy gets you free traffic. Why wouldn't you take advantage of that? Of course, it'll take a lot of work, but producing unique and relevant content is the best way to boost your way up the Search results, allowing your site to be found for the exact things your customers are looking for.  But remember, patience is key.  It takes at least 100 days for new content to rank high in search results (moz.com), but the more discoverable your site is, the more it will pay off. For existing content, we recommend an SEO audit. Google is constantly updating its hundreds of ranking factors to ensure relevancy, so an audit is a great way to make sure you're getting the most out of the content you already have. 


Becoming a Better Storyteller
Brand storytelling isn't a new concept, but it has certainly evolved.  Consumers don't want to hear flowery explanations of how great your product or service is. They want you to show them. Tell them about a specific time your product solved a problem. Or share an experience that your service helped make a lot better.  Thinking like your customers is crucial to creating a stronger connection.  And that means creating a story that personifies their needs and values. Brand storytelling is about honesty, but it's also about telling your customers what they really want to hear.


Embracing Personalization
There are now more channels than ever before to consume content — which is great for marketers! But it also means there are that many more ways to get it from your competitors too. Simply being present isn't going to cut it anymore. You have to spend time getting to know what channels your audience is on and understanding the things they really care about.  Whether it's through podcasts, videos, online articles, your message has to be presented in a way that's most appealing to them.

And that means speaking their language. Your most authentic voice is actually that of your audience. Through Voice of Customer Research,  you can get a stronger understanding of what your customers are saying about your products and services, and respond in a way that resonates. With a holistic view of their needs, desires, and expectations, your story won't fall on deaf ears.


Focusing Even More on Mobile Optimization
In not-so-shocking news, consumers are spending more and more time on their phones.  Since 2017, just about half of online website traffic has come from mobile devices (hubspot.com). And the average American household now has more than 10 connected devices. So as Millennials and Gen Zers continue to gain more buying power, the experiences you provide on these devices will be a game-changer. And that doesn't just mean your website, but other important marketing strategies too — like email, apps, social media, and more.
 Owning your Audiences
Think about it. When you run ads on Facebook, Twitter, Google, etc., that audience belongs to that network — not you. And just on Facebook alone, you're in the company of 6 million other businesses also running ads to those people. It's very noisy out there, and with the death of the third-party cookie, tracking users on platforms like Google is harder than ever too. So to ensure your message actually reaches your followers and isn't muffled by platform algorithm dependencies, you should start owning your audience. It may take some time, but building a database through Lead Gen strategies gives you the opportunity to talk to your audience directly. Newsletters are a great way to get a person's undivided attention and be more personal. Because custom content is another big trend that will help you maximize these efforts as people become more selective than ever about what they consume.
Adopting Marketing Automation
In 2022, data-driven marketing campaigns will be dominating more and more industries in new ways. Its ability to make outreach efficient and effective for marketers is a big hit. By automating their workflows, they can spend less time doing repetitive tasks and more time seeking new prospects.But this convenience can't make you lazy. Building customer profiles and segmenting different strategies and content is a crucial part of the process. Consumers are becoming a lot savvier, and they expect businesses to cater to them (see trend #3 again for more on that). Tracking and understanding which of your content they see online is key to starting a conversation and moving them down the sales funnel naturally.
Want to make sure your marketing is ready for 2022? Contact shyft today to find out how we can help you implement these trends and more into your strategy and make it your best year yet.