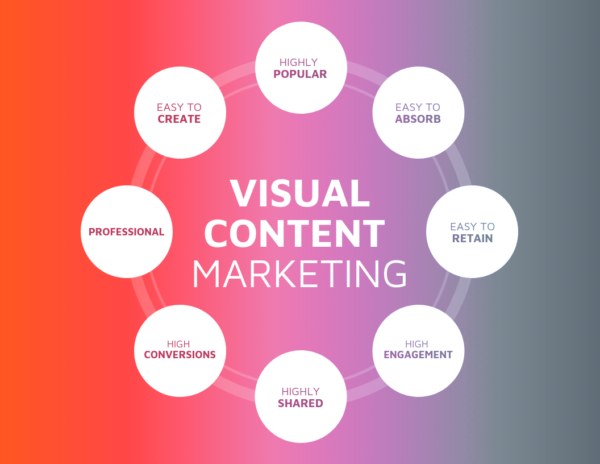 There's no looking past it: visual content is changing the way consumers interact with brands.
Today's consumer is seeking the realness and reassurance of a face-to-face interaction, while refusing to trade in the convenience of the digital experience — and visual content is the solution. It's forging more intimate and authentic connections between businesses and their audiences in our evolving digital world.
So now the question is how do you keep up? Content marketing is constantly changing as new technologies and tools change our online behaviors. So here are seven of the top visual content marketing trends to follow this year.
Video Content will be Front & Center
Video has become the marketer's best friend over the last few years as its popularity and effectiveness have shaped the digital landscape. 84% of people say a brand's video has convinced them to buy a product or service. And 86% of people actually want MORE videos from brands. And that's exactly what they'll get. By 2022, Cisco forecasts that videos will drive 82% of all traffic on the web.Video is devouring social media in the form of how-tos, product demos, recipes, etc. Lack of time or resources is no longer a good excuse with bite-sized video content — from FB and IG Stories to Snapchat, TikTok, and Reels — changing the game and making video marketing easier than ever. So if you're still putting it off, it's time to get rolling.
Special Focus on Authentic Content
That realness we talked about in the intro is why this trend is way too important to ignore. Your audience is over the "fluff" that comes from staged photo shoots and self-promoting jargon. They want to know who you are and how much you care. This means seeing real people, having actual conversations, understanding what they want and need, and being helpful. The best way to master an authentic marketing strategy is to ask questions. Find out what your customers need, what pain points they have, what values they believe in, and what influences their decision-making. Align your visuals and messaging with what they're looking for — but make sure your brand can back it up. Because you consumers are also really good at knowing when you're faking it.
Optimizing Branded Content
Branded images alone are a great way to build recognition and visibility. Colors, logos, taglines — the more your audience gets familiar with who you are and what you look like, the less likely they are to forget you. But now, you have to take it a step further. If you properly optimize your branded assets with alt tags when you upload them, those images and videos can then be indexed by Google in Search. This also allows publishers to find you and link to you, increasing your exposure and reach. By feeding Google the right info, your content will rank everywhere.
Garnering More User-Generated Content
User-generated content is an awesome way to get your audience more involved in your marketing efforts. UGC is any type of content (blogs, posts, videos, etc.) that are created and posted by other people. Not only does it help alleviate some of the work and cost for you when crafting a content strategy, but it also gives customers a real look at how people feel about your products or services. Think of it like a visual review — showcasing real people who have used your product or worked with you. No offense, but people are much more likely to trust friends, family, and even strangers who recommend you than they are you recommending yourself.
Personalization will be Key
Generic ads just don't cut it anymore. There is no one-size-fits-all when it comes to your messaging, and your customers don't want to feel like they're just one in a crowd. 73% of buyers expect communications from a business that are personalized to suit their needs. They want to feel special, and this is a major part of authentic marketing too — creating a stronger connection with your consumers based on a tailored experience. From adding their name to an email header or subject line to showing them products that match their interests or messaging that speaks to their pain points, your data will play a big role in making this happen. Get to know your customer on a deeper level by asking the right questions, and tracking responses.  They say the customer is always right, and in this case, you really have to deliver.
Interactive Content to Stand Out
Speaking of a personalized experience, enter: Interactive Content. These types of visuals turn traditional advertising into an activity for consumers, encouraging them to engage with your brand through questions, polls, calculators, and games. Not only do these ads grab attention and keep it which Google and social platforms love to reward you for, but they also put your consumer in control which they love too. You can even gather important insights by asking them opinion questions that flip the messaging to be all about them. There are endless opportunities here, so get your thinking cap on.
Evolution of Result-Oriented Content
Along the same lines as personalized content is content that focuses on results. No, we don't mean persuasive or keyword-optimized content that gets results for you (although that will also be an inevitable outcome); we're talking about it from the user's perspective. Result-oriented content gets your audience the answers they want, fast. For example, think of the opinion question example from #7. Here, a digital agency marketer may ask what the user's primary marketing goal may be, giving them 5 options to choose from. As soon as the user clicks, they are taken to the exact content/solution they are looking for. Instant gratification. This type of content enhances the user experience and builds valuable trust in your brand, which will keep people coming back.
To learn more about getting your visual content marketing ahead of the game for 2021 and beyond, contact shyft to discuss your goals and opportunities today.